Media Interviews and Publications (Selected)

For recent media interviews, see Google News. Here is a sampling of past interviews (hopefully links still work!).
CBC, The National, on Canada's proposed mission to Mali, 27 February 2018: CBC link
The Debate on "Killer Robots", CTV News Network, 19 April 2015.(video clip) (clip link | Facebook)
Mali: French forces in Timbuktu, CTV News Channel, 28 January 2013
UN Action/Inaction in Syria and the Annan resignation, CTV News Channel (see box, 2), 2 August 2012
Older CTV News Channel themes: ICC issues arrest warrant for Gaddafi, 27 June 2011; The end of the Gaddafi regime, CTV News Channel, 22 August 2011
CBC, World at Six, interview with Susan Bonner about Canadian peacekeeping (mp3)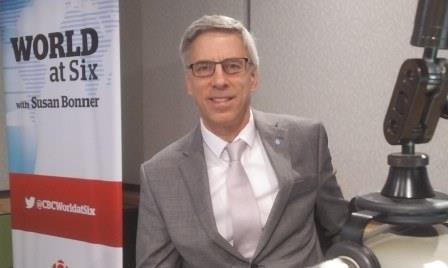 Developing or banning killer robots?, CBC's Ontario Today, 16 April 2015 (mp3, 10 MB, 21 min;
appearance at 30:00 min of complete show: CBC site mp3)
Congo Intervention Brigade, CBC's The World At Six, 21 June 2013 (mp3, 3.4 MB)
National peacekeepers' day, CBC's The World This Weekend, 7 August 2011 (mp3, 3.3 MB)


Print

Peacekeeping should be the next mission, Embassy newsweekly, 5 October 2011
Canada should have eyes, ears in Libya: Defence expert, Postmedia News / Ottawa Citizen, 31 August 2011
Why are UN Peacekeepers so badly equipped for modern conflict? (copy) The Independent, 9 August 2011


Entrevues en français
L'OTAN défiée au coeur même de Kaboul, Le Devoir, 14 September 2011
Give the Peacekeepers Tools They Need,National Post, 26 September 2011 (html)
It's Time to Keep the Peace Again (with Dominic Leger), National Post, 6 June 2011
Where are Our Peacekeepers? (with Peter Langille), Toronto Star, 8 August 2009
Canada Pulls Out of Peacekeeping, Globe and Mail, 27 March 2006
.... Get the public messaging about Canadian peacekeeping? ....
Wired UK (online) "Smartphones, drones and social media: peacekeeping's technological armoury", 1 August 2012

Smartphones for Smart Peacekeeping
,
The Mark,
with Nicholas C. Martin and Charles Martin-Shields, 2 June 2011
Will Canada be a UN Peacekeeper Again?, video excepts on CPAC's Public Record and youtube (1:26), presentation PPT, 11 February 2011
How Tech Can help Prevent Violence, Innovation News Daily & LiveScience.com, 27 April 2012
Podcast interview about book Keeping Watch: Monitoring, Technology and Innovation in UN Peace Operations, interviewed by Dr. Alistair Edgar, Executive Director, Academic Council on the UN System, BookTalk Podcast, 7 June 2012.
Freelance journalists
Jane Kokan, Canada's Peacekeeping Legacy (interview, 2012)