Air Power in UN Operations:
Wings for Peace
Edited by A. Walter Dorn
Ashgate Publishing, 2014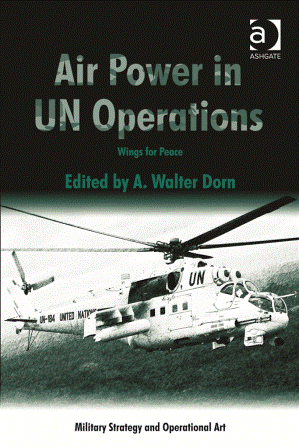 Air power for warfighting is a story that's been told many times. Air power for peacekeeping and UN enforcement is a story that desperately needs to be told. For the first-time, this volume covers the fascinating range of aerial peace functions. In rich detail it describes: aircraft transporting vital supplies to UN peacekeepers and massive amounts of humanitarian aid to war-affected populations; aircraft serving as the "eyes in sky" to keep watch for the world organization; and combat aircraft enforcing the peace. Rich poignant case studies illuminate the past and present use of UN air power, pointing the way for the future. This book impressively fills the large gap in the current literature on peace operations, on the United Nations and on air power generally.
Website: www.UNairpower.net (full contents by chapter)
Complete book: pdf (large text, 3.2 MB)
Contents
Foreword Roméo Dallaire
Preface [pdf excerpt published in Vanguard Canada]


PART I The UN's First "Air Force": Congo
1 Planning, Organizing, and Commanding the Air Operation in the Congo, 1960 William K. Carr
2 Peacekeepers in Combat: UN Fighter Jets and Bombers in the Congo, 1961–1963 A. Walter Dorn
3 A Fine Line: Use of Force, the Cold War, and Canada's Air Support for the UN Organization in the Congo Kevin A. Spooner

PART II Airlift: Lifeline for UN Missions
4 Above the Rooftop of the World: Canadian Air Operations in Kashmir and along the India–Pakistan Border Matthew Trudgen
5 Humanitarian Relief in Haiti 2010: Honing the Partnership between the US Air Force and the UN Robert C. Owen
6 Flying Humanitarians: The UN Humanitarian Air Service A. Walter Dorn and Ryan W. Cross (html)

PART III Aerial Surveillance: Eyes in the Sky
7 Aerial Surveillance: Eyes in the Sky A. Walter Dorn
8 UN Observer Group in Lebanon: Aerial Surveillance during a Civil War, 1958 A. Walter Dorn (html)
9 Unmanned Aerial Vehicles Supporting UN Operations: A Commercial Service Model David Neil

PART IV The UN and No-fly Zones
10 The UN Iraq–Kuwait Observer Mission and the Southern No-fly Zone, 1991–2003 James McKay
11 Observing Air Power at Work in Sector Sarajevo 1993–1994: A Personal Account F. Roy Thomas

PART V Combat: Enforcing the Peace
12 Air Operations in Somalia: "Black Hawk Down" Revisited William T. Dean III
13 Operation Deliberate Force in Bosnia 1995: Humanitarian Constraints In Aerospace Warfare Robert C. Owen
14 Combat Air Power in the Congo, 2003– A. Walter Dorn
15 Allied Air Power over Libya Christian F. Anrig

PART VI Evolving Capabilities
16 Advances in Aviation for UN Peacekeeping: A View from UN Headquarters Kevin Shelton-Smith
17 Peace from Above: Envisioning the Future of UN Air Power Robert David Steele

Afterword: Some Reflections



Endorsements:

'I welcome this unique volume on air power in UN operations. It provides a close look at the ways peacekeeping and enforcement can be facilitated from the air. It provides an impressive and wide-ranging examination of air power applications from the past and points to how these can be made more effective in the future.'
– Lieutenant-General The Hon. Roméo A. Dallaire (retired)

'Combining rigorous analysis with compelling first-hand experience, and awareness of new technologies with deft appreciation of history, this book provides a compelling account of the use of air power in UN operations which provides both rich insight into its possibilities and frank advice about its limitations and management. Comprehensive and authoritative, it will be core reading for analysts and practitioners alike for years to come.'
– Alex J. Bellamy, Griffith University, Australia and International Peace Institute

'Since 1945 when the United Nations was created in San Francisco, nations often look to this international organization to keep or restore global peace. Professor Walter Dorn's outstanding anthology provides a much needed examination of the UN's air power capabilities for global intervention to halt war-fighting. He and his expert colleagues address, lucidly and with fresh insights, several case studies in which UN air power has played a role in peacekeeping; they examine such key questions as how and under what circumstances the UN has used air power, as well as the strengths and weaknesses of this approach.'
– Loch K. Johnson, University of Georgia, USA

'This authoritative volume is a one-of-a-kind reference tool on aviation in peace operations, from logistics to combat, from the Sixties to the present. Using primary sources and personal narrative, it is deeply knowledgeable at both the operational and tactical levels of this important and under-studied subject.'
– William J. Durch, The Stimson Center, Washington DC, USA
Early Reviews
Order
© Walter Dorn, 2014
Note: The book editor, Dr. Walter Dorn, is the copyright holder for the material in the book but has waived his right to royalties and seeks no monetary benefit from sales of the book. His goal is to disseminate knowledge and research that will be of interest to readers and of benefit to the United Nations.


Book Launch: University of Toronto, 16 September 2014

Covers: Front (various sizes, html) (pdf, 2 MB); Back (pdf, 2 MB)